The world's largest search engine has let online users explore alleys, streets and urban areas with Google Street View. Now stores and showrooms begin to welcoming online users via virtual tours from Google.



Internet users can use navigation arrows and 360-degree images to explore places anywhere in the world, wherever they are, with a tangible feeling of physical presence.
More and more shops, showrooms and restaurants have now also begun to let online users inside their premises with living, virtual tours. This is the newest, most innovative digital marketing tool.
Virtual tours can give potential clients a realistic sense of the place and the feeling of actually stepping into a store.
It gives shops the opportunity to show off their business and products to more than just those who physically walk past – and from anywhere in the world.

Innovative online marketing
"It's a new and innovative way to showcase your products, showroom or spectacular décor, which at the same time sends the signal that your business is following the digital wave," says Anne-Kathrine Utzon, PR and Communication Manager at MatchOffice. The company is among others creating virtual tours for their clients.
"We can also see that more companies use virtual tours on their marketing channels - on webpages and social media platforms - to create awareness and strengthen their brand.
"The virtual tours automatically appear on Google's various platforms like Google +, Google Maps and Google Street View.
One of the companies that has taken advantage of the technology is the award-winning Norwegian jewellery brand BJØRG Jewellery, which recently opened a concept store and showroom in Copenhagen.

Digital presence
"Using Google Street View was an obvious choice when it comes to making potential costumers aware and curious of our shops. They're decorated with unique installations that include horsehair, crystals and hand-molded hands and sculptures in plaster.
"The virtual tour thus unites our physical surroundings with our digital universe and presence," says Jens Kold, Head of Brand and Digital Strategy at BJØRG Jewellery.
The tour has resulted in a better visibility on Google, he adds, and which helps to emphasize to their business partners and customers that BJØRG Jewellery is a company with a digital mindset.
Senior SEO Specialist at Group M, Christian Højbo Møller, suggests that virtual tours probably have a very positive impact for SEO and businesses rankings on Google.
"It is not something that will shoot you from the bottom to the top on Google, but it will most likely result in more visibility, especially now Google is looking towards user experience and user metrics," he says. ●
Read more: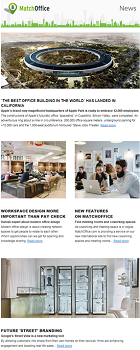 Google Street View
Why you should consider marketing via Google Street View Trusted