MatchOffice Industry Survey 2019 shows how the commercial real estate market of Europe maintains its momentum and optimistic outlook on continued growth due to the coworking concept´s huge rise and overwhelming success.

The European commercial real estate industry and its providers thrive as never before - due to the coworking concept's substantial global impact in particular.
Worldwide over the past three years, the number of coworking and flexible workspaces has more than doubled and is currently growing by more than 20% a year.
According to MatchOffice Industry Survey 2019, coworking´s explosive success is a highly powerful growth engine for the entire real estate industry and market.
The annual report, based on statistical reporting from 1,159 serviced offices in 51 countries, shows that the influx to serviced offices continues unabated and contributes to maintaining market optimism of the flexible office providers on top.

Clout of coworking
"The tremendous impact of coworking as well as these years' increasing interest in flexible offices also greatly benefits the rest of the commercial real estate industry and its many different actors," MatchOffice CEO Jakob Dalhoff states.
"Our new Industry Survey 2019 documents that over 92% of our European respondents expect at least the same or even higher rental rates for this year. 12% even anticipates considerably more rentals for 2019."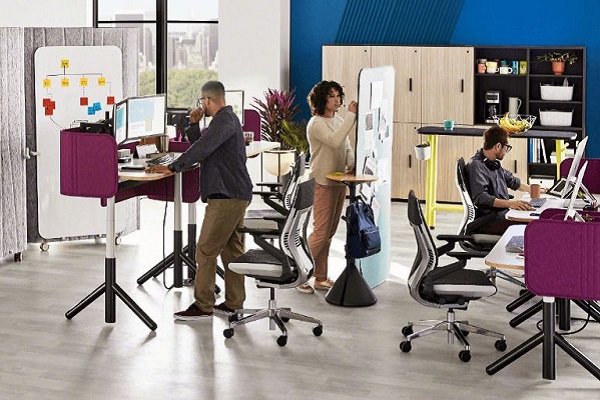 The huge success and impact of coworking and flexible spaces serve as the most
robust growth engine for the commercial real estate industry worldwide.
(Photos: Steelcase.com)

European serviced offices are maintaining the very high occupancy rates of recent years. Nearly a third of surveyed providers shows more than 90% occupancy, and another third of the respondents report over 80% occupancy.
Nine out of 10 services offices in Europe calculate with at least the same or even higher rental prices in 2019 compared to last year. Overall, 80% of the providers are reporting positive or very positive expectations for the current market and the year's outcome.

Profitable conversions
"The global breakthrough of coworking, as well as the increasing popularity of flex offices, have definitely revolutionized the real estate industry's traditional long-term leases.
Nowadays, not just entrepreneurs, but companies of all sizes have adapted to the new market conditions: ultra-short and flexible leases. Landlords adapting to the new reality can profit highly from them," Jakob Dalhoff points out.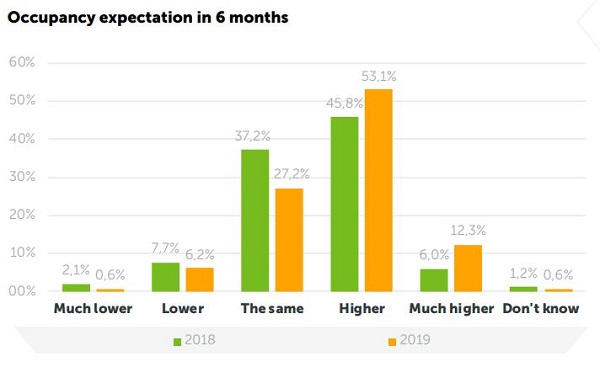 In the European market, a total of nine out of 10 serviced offices predict at least the same or
even higher lease pricing in 2019 compared to last year.


With a sense of fashionable design and spectacular decor, coworking and flexible office providers can earn between two and three times more revenue per square foot than traditional workspace offerings..
As the coworking trend spreads, an increasing number of investors in commercial real estate prioritize involving flexible workspaces into their portfolios - currently averaging 15-30% per asset.
Today, flexible office leases more than ever are becoming interesting "game-changers" not just for business companies, but for prospective investors also.

Momentum
In 2019, the majority of European providers maintain stability, MatchOffice Industry Survey 2019 shows. The positive momentum and development continue as vacancy among serviced offices are quite low.
Overall, the market remains competitive, as even more providers than last year achieved stability in pricing and contract length and are planning to retain it further on - a profound course dating back to 2016.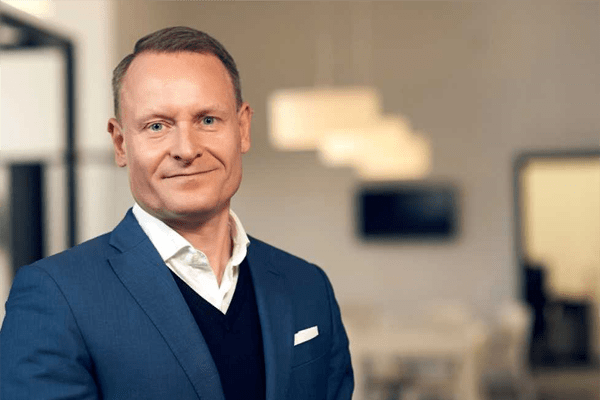 "The tremendous impact of coworking and the significant interest in flexible offices,
highly benefit the entire real estate market," MatchOffice CEO Jakob Dalhoff states.


"Our survey data this year clearly shows that the European commercial real estate market and the industry are very active and continue to thrive.
Occupancy rates are persistent, encouraging the development of new trends, and search for new opportunities for expansion. Altogether, we are confident that the prospects are positive in 2019," MatchOffice CEO Jakob Dalhoff outlines. ●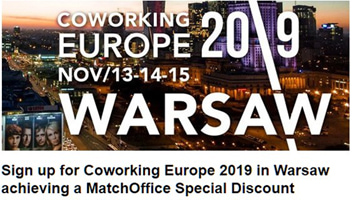 Read the MatchOffice Industry Survey 2019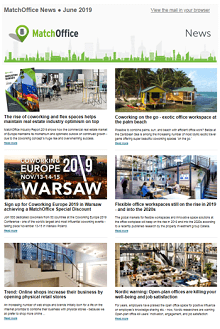 MatchOffice Survey Report 2018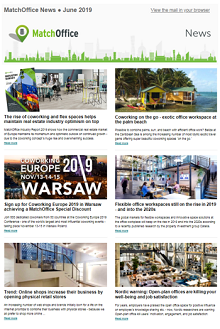 MatchOffice.com: The young generations demand social and flexible work environments
MatchOffice Survey Report 2017
MatchOffice Industry Survey 2016