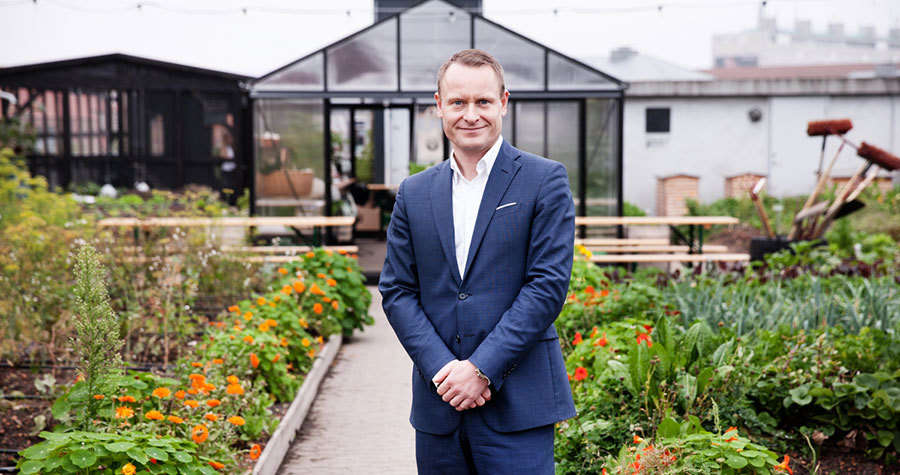 Curriculum
Age: Born on May 1, 1973
Residence: Lviv, Ukraine
Education:
Certified Real Estate Agent from Niels Brock Business College, 2000
MSc in Finance and Accounting from Copenhagen Business School, 2001
HD course in Online Promotion Strategy at CBS, 2015
Experience:
2008 – Present: Lokalebasen.dk, CEO
2004 – Present: MatchOffice.com, CEO
2003 - 2013: DN Erhverv, CEO
2003 – 2003: CB Richard Ellis, Commercial Property Agent
Favorite books

'Livsfarlig ledelse' by Christian Ørsted
'The Experience Economy' by Joe Pine
'Udefra' by Jakob Bøtter
'The Power of Self-Discipline' by Brian Tracy
'Go-Givers Sell More' by John Mann
'Good to Great' by James C Collins
'48-Hour Start-up: From idea to launch in 1 weekend' by Fraser Doherty
'The 4-Hour Workweek' by Timothy Ferriss
Jakob Dalhoff, CEO
Jakob Dalhoff has been involved in the real estate industry throughout his adult life. He started his career as an entrepreneur at a young age. Later, while studying at Copenhagen Business School, he wrote a thesis on investment in rental properties and also pursued education to become a real estate agent.
After working as a real estate agent for a few years, he decided to fulfill his entrepreneurial dream, which led to the founding of DN Erhverv A/S, where he worked as a commercial property agent for over ten years.
His entrepreneurial spirit has since resulted in the founding of several companies.
In 2004, he co-founded MatchOffice.com, which today facilitates serviced office spaces in more than 100 countries.
In 2008, he founded Lokalebasen.dk, which today facilitates available commercial leases, especially office spaces, retail spaces, and warehouses in Denmark.
In 2018, Jakob relocated his residence and company address to a future business base in Lviv, Ukraine. Due to a shortage of skilled and available IT developers, he began to look towards the Western Ukrainian university city.
At the Tech StartUp School in Lviv, Jakob became a Professor and co-founder of the Ukrainian-Danish Center for Scientific and Technological Cooperation in 2020, where he teaches and mentors young Ukrainian entrepreneurs.
Since the Russian invasion of Ukraine in February 2022, he has allocated about half of his time to humanitarian work and supportive projects.
Learn more about Jakob Dalhoff on LinkedIn.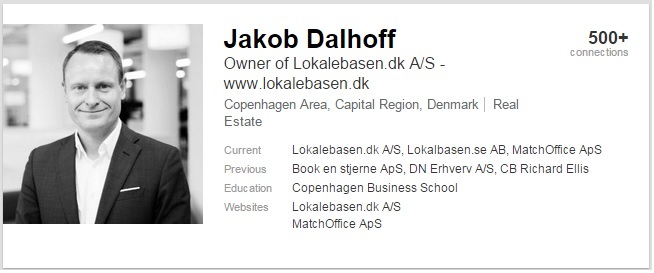 Read related news articles etc.
Jyllandsposten: LinkedIn bliver erhvervsmæglernes fortrukne værktøj
Berlingske Ejendomme: Tomgangen i kontorhoteller falder

Berlingske Business: Erhvervsmægler: "Jeg udlever mine kreative drømme"
Børsen: Internationale ambitioner med Lokalebasen.dk
Jyllandsposten : Dansk erhvervsportal vil indtage Europa
Estate Media: Lokalebasen klar til at indtage europæisk marked
Berlingske Business: Mæglere i digital dyst om kunder
Estate Media:Direktør Jakob Dalhoff fylder 40
Estate Media:Jakob Dalhoff sælger DN Erhverv
Politiken:Arbejdslivet har forandret sig for altid: Både lønmodtagere og arbejdsgivere ønsker mere hjemmearbejde
Lokalebasen.dk:Dansk frontkæmper i Ukraine runder 50 år